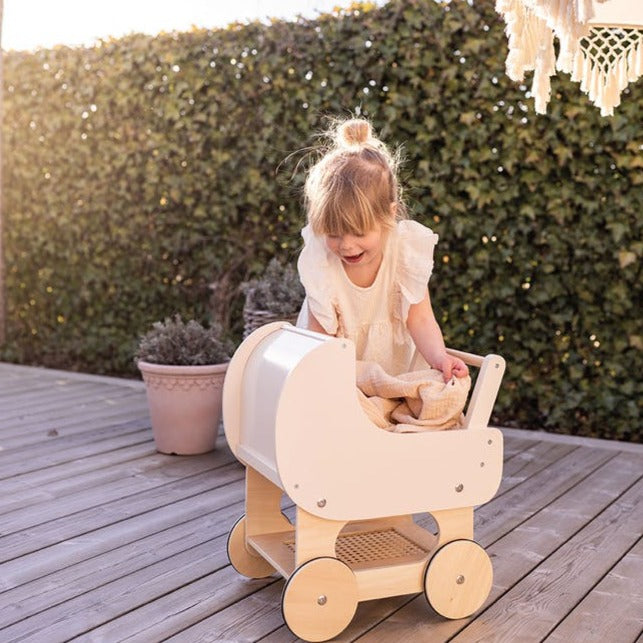 Jabadabado Wooden Doll Pram
Time to take a walk! Jabadabado's cute wooden doll wagon has a lovely cream colour and decorative rattan-like details. It is a classic toy that fits perfectly into the children's room. Let your dolls and teddy bears sleep in the wagon and take them for a walk. Under the wagon there is a shelf where you can store accessories for the doll, or keep other favorite toys. Jabadabado's doll Astrid loves the wagon and wants to accompany you when you go out and have coffee with your friends. The wheels have a rubber strip, so they roll safely on all surfaces without leaving marks. The doll wagon will be an appreciated gift that can be played with for a long time to come.
Get Baby Doll Astrid, Chair and Cot to match, so your mini can play for hours having fun independently!
Product dimensions: 42,5 x 26 x 47 cm
Material: Mdf, Plywood, pvc
Age 18 Months +
JABADABADO- This Swedish company driven by its love for little ones is our go to brand for play with a difference. Their high quality range of toys is made from natural wood and cotton, designed for all ages to encourage educational learning and play and problem solving. Our favourite has to be the Wooden Stacking Burger Meal. Let your little one create a meal combination by reading and following the order card, then watch them pack it all away into its own box for more play on the go. We love this range and are proud to be the only stockist in Cheshire from our concept store.