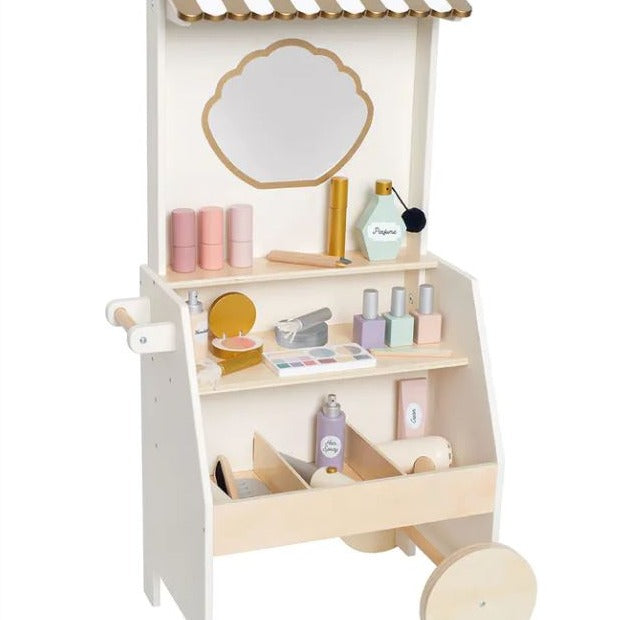 Jabadabado Wooden Beauty Salon Bar
This wooden Beauty Bar Stand from Jabadabodo is by far our favorite 'big gift' for this coming Christmas. Complete with all of the accessories for hours and hours of pampering play, with its soft pastel colour palette it will look perfect in your nursery and playroom too! Encouraging creative role play for play dates and parties it contains a vast array of pieces, from the essential cucumber slices to the finishing touches and scents;
1 x beauty salon with mirror 1 x comb 1 x hairdryer 1 x flat iron 1 x curling iron 1 x hairspray 1 x foundation 2 x brushes 1 x nailfile 3 x nail polish in different colours 3 x lipstick in different colours 1 x face cream 2 x cucumber slices to put on the eyes 1 x mascara 2 x rouge in different colours 2 x palettes with eyeshadow 2 x kajal pens 1 x perfume bottle
All on its own mobile wooden stand with mirror, everything packs away neatly, a dream for both mama and mini!
Product dimensions: 29 x 46 x 78 cm
Packaging dimensions: 43,5 x 9,5 x 55 cm
Material: Teawood, mdf, plywood Warnings: Not suitable for children under
JABADABADO- This Swedish company driven by its love for little ones is our go to brand for play with a difference. Their high quality range of toys is made from natural wood and cotton, designed for all ages to encourage educational learning and play and problem solving. Our favourite has to be the Wooden Stacking Burger Meal. Let your little one create a meal combination by reading and following the order card, then watch them pack it all away into its own box for more play on the go. We love this range and are proud to be the only stockist in Cheshire from our concept store. 
Age 3 years +